Ques­tion
When I com­ment on a face­book friend's post I can see their friends' com­ments even if they are not one of mine. Nor­mally, this doesn't bother me. But… there is a par­tic­u­lar per­son I find offen­sive. Is there a way to hide or block their posts so I can't see them?
Answer
Friends
Most likely you have fig­ured out how to hide your friend's posts. You can hover your mouse over any post on your wall and an "X" will appear in the upper right cor­ner. When you click on it, you'll get some choices.
Hide this post
Hide all posts by the per­son who posted
Hide all *insert appli­ca­tion name here*. This will only show up is the post is asso­ci­ated with an app, like Far­mville. It's my favorite option as all those appli­ca­tion alerts drive me crazy. But, a quick click and you'll be both­ered by Far­mville (or Zom­bieville, Horo­scopes, or My Dog Just Ate Din­ner etc.) no more.

Non-Friends
If the per­son you want to block is not one of your friends, you won't get the same option. You won't see any­thing at all. You may think you are out of luck, but it isn't so. You'll just need to go to your pri­vacy set­tings to add them to your block list.
Go to Account –> Pri­vacy Settings
Select the "Block Lists" sec­tion at the bot­tom of the screen
In the "Block Users" sec­tion you can enter their name (as it appears in Face­book) and/or email address.
Select "Block"
Once you block some­one, that per­son can no longer be your friend on Face­book or inter­act with you (except within apps and games you both use and groups you are both a mem­ber of). How­ever, you can eas­ily unblock them from the same page if you ever decide you want to see their posts again.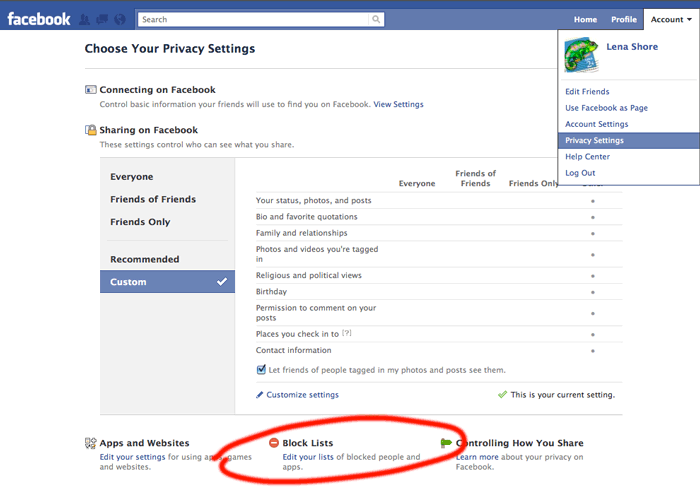 NOTE: Face­book likes to changes things pretty often. So, if you can't find it they could have moved it into a lit­tle dif­fer­ent area.