Ques­tion
Is there a way to print texts from an iPhone?
Answer
Yes! There are sev­eral ways to do this rang­ing from free to spend­ing a lit­tle cash.
Screen shot — Free
You can take a screen­shot of your iPhone screen by press­ing the "home" but­ton and the "power" but­ton simul­ta­ne­ously. It will put your screen shot into your Pho­tos app. From there you can email it to your com­puter and print it.
Copy/Paste — Free
You can also high­light and copy your SMS and paste it into an email to your computer.
If you need to export SMS from your iPhone to your com­puter, you can down­load the free ver­sion of SMS export for your com­puter and then pur­chase the iPhone app for $4.99. Together you can export and sync your SMSs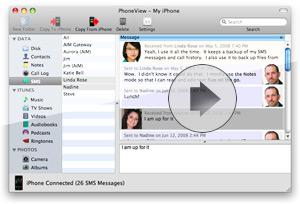 This solu­tion is a lit­tle more costly, but it does have a lot of features:
Always Have Your SMS and MMS Mes­sages on Hand: View and search your texts and mul­ti­me­dia mes­sages, even when your iPhone isn't con­nected to your Mac. PhoneView auto­mat­i­cally backs up your mes­sages when­ever your iPhone is con­nected. Mes­sages can be exported as PDF files, text or XML.
Archive Your iPhone Voice­mail: PhoneView pro­vides full access to your iPhone's voice­mail mes­sages. Click to play or send them right to iTunes. What's more, PhoneView will auto­mat­i­cally archive your voice­mail mes­sages for offline listening.
Call His­tory Instant Access: View, search and export your iPhone's recent calls, even when your iPhone isn't con­nected to your Mac. PhoneView auto­mat­i­cally backs up your call log each time your iPhone is connected.
Search Your Mobile Life: All data dis­played or archived by PhoneView is auto­mat­i­cally search­able. Quickly find old text mes­sages, voice­mail mes­sages and more, all with­out leav­ing your Mac.
Your iPhone or iPad Becomes a Portable Disk: Drag Mac files and fold­ers in and out of PhoneView. It's that easy. Data is copied to and from your iPhone or iPad's stor­age mem­ory via high-speed USB. Even access app data for cer­tain apps such as Air Shar­ing and GoodReader!
Full Con­tact List Access: Need to grab con­tacts from an iPhone, iPad or iPod Touch? PhoneView dis­plays your entire con­tact list orga­nized by con­tact group. Sim­ply drag con­tacts to the Desk­top to save V-card files or send con­tacts directly to your Mac OS X Address Book.
Mobile Safari Book­marks On Your Mac: PhoneView gives you quick, sim­ple access to your Mobile Safari book­marks and web his­tory. It even shows you the browser win­dows cur­rently open on your iPhone. Eas­ily pick up where you left off brows­ing upon return­ing home to your Mac.
I didn't see where this app said specif­i­cally that it would print SMSs, but I don't see why it wouldn't. It looks like a great solu­tion if you have a wifi printer. In con­junc­tion with Drop­Box, this seems like an amaz­ing, func­tional app.
Print n Share™ is the first app that enables you to view, store & print email, doc­u­ments, files, attach­ments, pho­tos, con­tacts and web pages on your iPad/iPhone/iPod touch. Print direct to most WiFi print­ers, or to ALL print­ers and ANY doc­u­ment type via your Mac/PC, even over 3G — As fea­tured in the Apple "Office" iPhone TV commercial